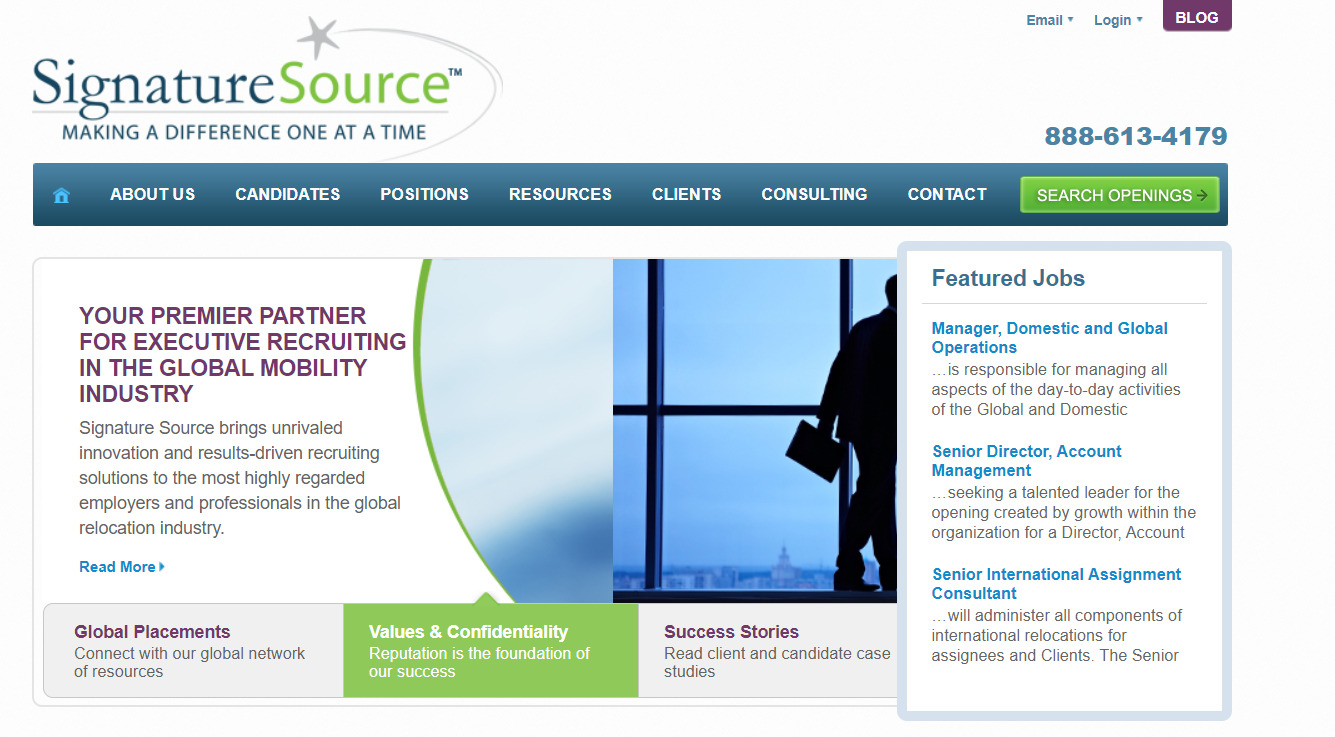 Hunting for a job is hard. With the current state of the world right now and unemployment numbers rising again, searching and applying can feel disheartening and overwhelming, but at Signature Source we want to change that. Our Motto is "Making a Difference, One at a Time…" and we strive to do so for our candidates and clients everyday!
Maybe you're already familiar with Signature Source as a Global Executive Search and Talent Acquisition firm, or maybe this is the first time you're hearing about us. Either way, we bring results-driven solutions to companies and job seekers that serve the global mobility/relocation industry. We pride ourselves on "pairing the right talent with the right job at the right company."
Today we're delighted to announce the launch of our newly revamped mobile-friendly Career Center on our website. After five months of hard work and dedication, we're ready to share this new and exciting part of Signature Source. As more and more people use their phones to access the internet and job hunt, we wanted to create a place where candidates could easily learn about available positions and experience a streamlined navigation and application process via a mobile platform. We structured the site so all the useful information is in one place for a "one stop shop" type experience. The Career Center page has a new design and colors that reflect the general Signature Source palette, making for cohesive branding.
With that being said, we've made the Career Center page a more user-friendly experience, not just for mobile phones, but also for desktops and laptops. There are several new features that we're especially thrilled about:
One time upload of your resume into our system. Have you ever become frustrated with applications where you had to keep uploading your resume over and over again? With Signature Source's Career Center, you just upload your resume into the site once and you're set.
Customized job alerts and the ability to easily apply to positions of interest. In the Career Center, you can customize the alerts you get for specific jobs (e.g. marketing or office management).
Resume tips. In the Career Center, you'll be able to access tips on how to make your resume stand out to a recruiter.
Mobile and tablet friendly. The Career Center site is now mobile and tablet friendly, so you can easily work on your job search from the comfort of your phone or tablet.
Reduces the amount of time spent searching through potential jobs and applying to them. Thanks to the customized job alerts and being able to upload your resume into the system, you won't spend hours on end sifting through jobs that may or may not pan out. Since your resume is already uploaded to the Career Center, you can easily include it in the job you're applying for.
Learn more about the Career Center and Signature Source on our website. You can contact us here or call us at 1-888-613-4179.